Works
Profile
-Jien Shizuka-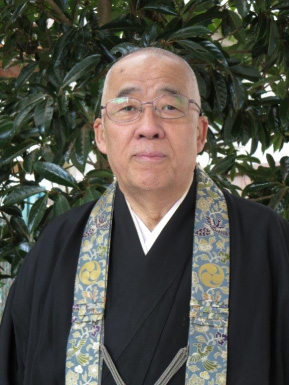 Brief History
1942
Born in Tokushima Prefecture
1971
Ph D from Koyasan University
1974
Finished Chinese Philosophy from Osaka University Graduate School
1978
Tibetan Buddhism Cultural Research Group
Academic research in West Himalaya as the leader of the group
Discovered several Mandalas
1982
Received Japan India Buddhism Study Award
1984
Visited China as the leader of the group "Road to Changan"
Completed the footsteps of 2,400km to 西安 青龍寺 from 霞浦県 福建省
Named the road "Kukai Road" as the pilgrimage road
More than 100 times to visit to China hereafter
1989
Received the rank of Dentou Dai-Ajyari
Set up "Kukai Study" Honorable Counselor
Exhibition Jien Shizuka Calligraphy and Paintings: In Search for Buddha's Mind
At Tokushima City Cultural Hall
1998
Exhibition Jien Shizuka Calligraphy and Paintings at Oval Hall in Mainichi Newspaper Building, Umeda, Osaka
2010
Honorable Villager of Minor Ethnic Group, Sichuan Province
藤椒 Cultural Museum Culture/Economic Counselor. Sichuan Province
2011
Jien Shizuka Calligraphy Exhibition at 峨眉山報告寺、Sichuan Province
2012
Counselor of西北 University Buddhism Study, 西安
2014
Honorable member of 西冷印社、杭州
2018
the 518th Bishop of Koyasan as Jimu-Kenjyo-Shikko-Hoin
Current
Honorable Professor of Koyasan University
Head Monk of Koyasan Seiryo-in
Doctor of Literature
Director of Koyasan Reihoukan Musium (~2017)
Trustee of Koyasan Calligraphy Association
Executive Director of Calligraphy Study Association
"Kukai Study" Honorable Counselor in China
Fifth black belt of Aikido

His Books

"Collection of Spiritual Words" from Domeisha
  "Spiritual Words Search" from Toho Shuppan
" Origin of Kukai's Esoteric Buddhism and its Development" from Okura Shuppan
"Beginning of and Practice of Sanskrit Writing" from Shuro Shobo
" Writing Heart Sutra in Sanskrit Letters" from Shuro Shobo
" Beginning Reading and Writing of Sanskrit Letters" from Seruba Shuppan
"Kukai:The Road to Tang Dynasty China" from Shuro Shobo
"Winds of Silk Road" from Toho Shuppan
"Footsteps of Kukai and His Thoughts" from Hozokan
"Opening Kobo Daishi Kukai's Words" from Seruba Shuppan
"Contribution of Japanese Esoteric Buddhism to Chinese Culture" 中国 ##出版
" Calligraphies and Art Works by Jien Shizuka" 中国 ##社
Kukai Road to Chungan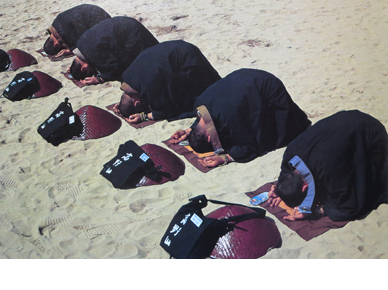 In the year of 804, Kukai was in the boat to China in a storm and drifted to 中国福建省赤岸鎮.
Kukai and his group advanced to the capital city of Chungan, journey of 2,400km.
Jien Shizuka researched the footsteps of Kukai. In 1984 he led the Koyasan University team of " Kukai: Road to Chungan" which was the project for commemoration of Kobo Daishi deceased 1,150 years ago. Mainichi Newspaper sponsored the project.
He completed to follow the Kukai's journey and revived the esoteric Buddhism in China after 1,100 and more years.
Today the road 赤岸鎮 To Chungan is known as "Kukai Road." It is helping the Buddhism of both countries, economic growth and friendship of both countries. Pilgrimage Journey is held every year.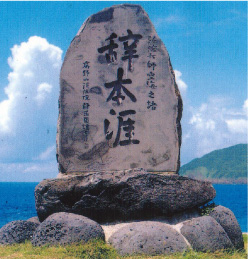 "辞本涯" monument in Fukue-jima of goto Islands
(Japan)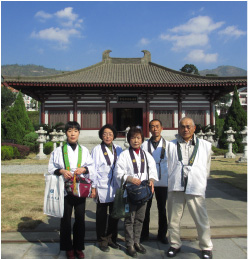 "Kukai Memorial" in 赤岸鎮 of Fujian (China)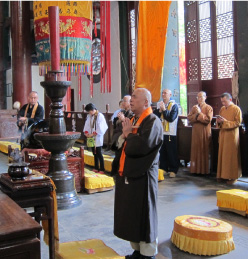 At 霊陰寺 Temple in Hangzhou (China)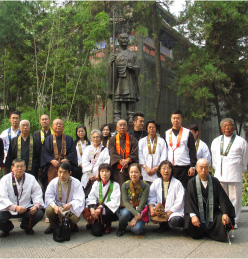 "Kukai Statue" in Shaolin Temple of Henan (China)
"Kukai is authorized Shingon-Buddhism
from 恵果 7th master" in 青龍寺 of Xian (China)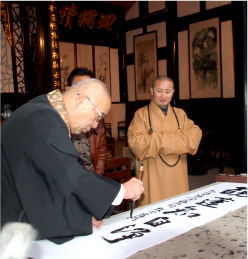 At 寶光寺 Temple in Sichuan (China)
Goma practice in 法華学問寺 of Shanghai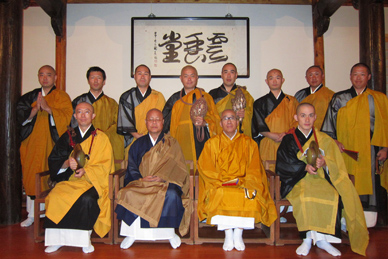 In 2016, 13 Shingon-Buddhism monks performed Goma practice at 法華学問寺 Temple in Shanghai, which was discontinued for more than one thousand one hundred years.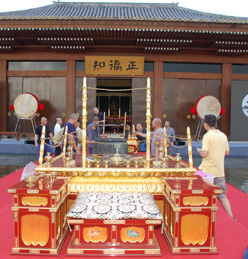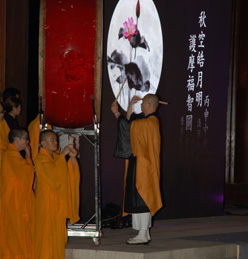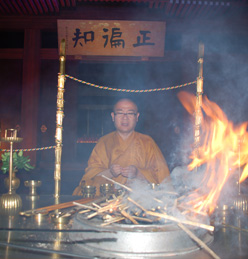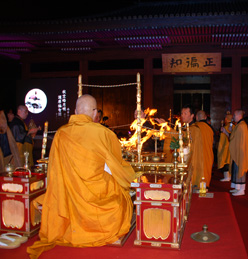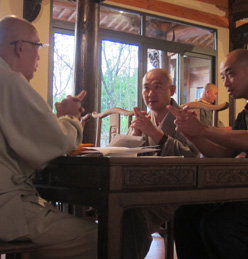 "Art Exhibition by Jien Shizuka" at 浙江西湖美術館 Museum in Zhejiang (China)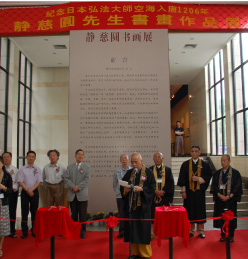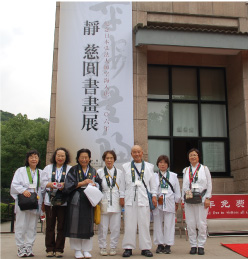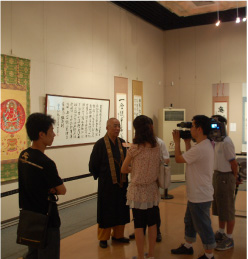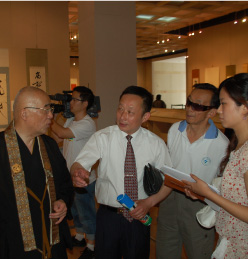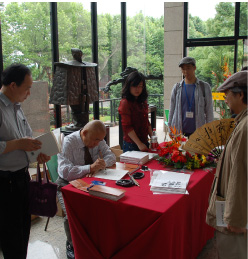 "Art Exhibition by Jien Shizuka" at Mainichi Oval Hall in Osaka (Japan)